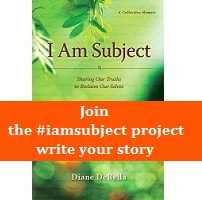 I am participating in the #iamsubject project led by Diane DeBella author of I Am Subject: Telling Our Truths to Reclaim Our Selves. Here is my #iamsubject story.
Since I was a girl I have created groups, written and wanted to publish.
When I was twelve in a dramatic moment when I thought I might die in the night, I felt that I had a purpose and it was not complete yet, so I would live. I was to be a clarify-er – a writer who helps clarify things in the world since I had lived in so many cultures and studied foreign languages.
I began knowing  (believing, wanting to believe) I would write books. But also, on the topic of being "subject of my own life", from very young, I always wanted a boyfriend, and the way I did relationships, I always swerved from my own direction, out of my own agency.
Groups are hard. People are like cats. I am not a leader – able to inspire, cajole, cause fear or motivate. Leading would not be my path. But writing – that I could do. And publishing… the Internet and "blogging" would make that possible.
In college I write guides of my study abroad experiences in Asia. No one should have to figure everything out from scratch when we had fresh, hard-won experience.
In 1984 I marry. My course changes to a direction my husband endorses, out of comparative literature into business. Not really a choice, more obligatory. The ocean is rough and the weather unaccommodating. For me, "having it all," ends up meaning not enjoying much of anything.
In 1992 I drink in Gloria Steinem's Revolution from Within, like instructions for living, for surviving a shipwreck in hostile waters. In the exercise of envisioning my life decades forward, I am a teacher, a writer and author working with women in groups, speaking, traveling.
I am 34 years old. On the outside life looks good. House. Husband. Car. Corporate job in an organization with a fancy name. Window office. Suits and high-heeled shoes. Good salary. A beautiful and bright son. But inside my ship has crashed and there are sharks and man-of-war jelly fish about; my son and I find a shore.
In June 1994 the divorce is final. My son and I move Washington DC to live with my mother. My father, back from overseas, dies of cancer six months after diagnosis in November. Between the unexpected grief of a failed marriage and my father's death I am overcome.
A new friend invites me to apply for a job at SAS, and solid ground emerges.
Flash forward to 2003. I move to North Carolina, still at SAS and start life over again. Life is good. I take training in subjects that have long interested me, therapeutic bodywork and coaching. In 2006 I am laid off from a company that has no layoffs. I have a fledgling business on the side, but I don't know how to grow it; I've been an employee all my life. Now I have to make enough for the mortgage.
I was dating on and off for several years, hoping for a life partner – someone who would be an equal, a peer, common values, space for each of us to be who we are. Dating? Not so fun. But then, two months after my layoff I meet my future husband. In 2007 we marry. Smooth seas. Good weather.
I begin blogging, taking walks and taking pictures. Overcoming fear of asking to take someone's picture. Overcoming fear of posting on a blog. It was as if I was going on Anderson Cooper before a ten million person audience. If only I had known that it's hard to have anyone find your blog post, harder to have any one interested enough to read it, and very very hard to get comments.
In 2008 I meet a life and business coach, Martin Brossman, who I learn from and collaborate with for the next five years. He guides me online and like he does for so many, like a tribal chief, he helps me define a job doing social media management focused on blog posts. I also work a little on the creative books I want to write. Partnering with him on work, I accomplish two of my life's goals, publishing a book, albeit for business, and developing and co-teaching a course at college. #gocoaches!
As for my creative writing, my second marriage doesn't compromise my personal sense of purpose, my own mission, in fact the increased security facilitates my progress.
Flash forward to Spring 2011.
At a local writers conference I receive my chance; "five minutes" with a NY literary agent. I practice for days.
Mouth dry. Five minutes like 60 seconds. She has no interest in my memoir. I am like the songbirds who fly into windows reflecting the sky and fall with a concussion on my porch.
I recover with wisdom: getting published traditionally is a venture capital deal – the investors are interested in making money on your book, period. Without a platform – without a stage, an audience, a performer and a successful show / product – you are no one and have nothing to offer a financial investor.
I recover with a new fire burning: a focused, motivated, determined anger. I will create a platform. I will  publish books. It is show time. After days researching keywords and domain names with four windows open on the pc at a time* I choose www.booksbywomen.org and the online magazine name of Women Writers, Women Books.
I find @womenwriters on Twitter handle. That will be the channel for outreach. Thousands of hours over two years, I encourage writers, build allies and friendships. I set up a virtual internship program. Amazing young interns began showing up to receive mentoring in exchange for work.
In April 2013, @chicaderock on Twitter, who had written a guest post and was always very interesting experienced interest (again) in working with me. The forces of the universe colluded and in twelve months time she triples our followers, our traffic and essentially triples our participation. Barbara Bos becomes managing editor (a volunteer position, as is my position as founding editor).
On April 5, 2014, three years later, we had 21,800 followers on Twitter, over 300 guest blog posts, over 3,000 comments, 2,200 Facebook followers, and friends around the world.
In December I transition the online magazine to Barbara, who has done a great job managing it from Spain. By February all the transition is complete, and I put my focus on the literary journal I started May 2013, When Women Waken whenwomenwaken.org.
—
The #iamsubject project is a project to raise awareness of the need for girls and women to be subject of our own lives. It is led by US Author Diane DeBella during her sponsorship with Women Writers, Women Books April – May 2014. Please share this with a friend. Read I Am Subject. Join the project and write your own #iamsubject story.
—
Anora McGaha is a poet, a business author and the founding editor of online magazine by and about contemporary women writers, Women Writers, Women['s] Books, and the literary journal, When Women Waken. She lives in central North Carolina, USA.